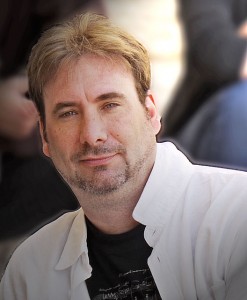 Stephen Songtime is the creation of me, Stephen Roberts, a songwriter currently living in Kitchener, Ontario, Canada. Songwriting is a hobby that has been steadily building into a passion. I'm a full time faculty member of Conestoga College teaching in the Broadcast Television program.
I write songs whenever I'm inspired, but recording is usually relegated to summer and the occasional weekend.
My musical background includes piano lessons starting in grade three and continuing into high school. At one point I thought I wanted to quit, but my piano teacher, our church organist, Ralph Thorne, adapted the course of my studies away from conservatory material towards popular music. He taught me the circle of fifths as a tool for figuring out songs that I was interested in learning. That might be one of the most important lessons of my musical life, because I was able to turn it around and use it to find appropriate chords for my own songs.
In grade seven, I was introduced to playing trombone and performing in the concert band. In high school I was a band geek, progressing through concert bands, stage band, and choir. I got an acoustic guitar one Christmas, when I was in my teens (I still have it), and towards the end of high school bought an electric guitar and a small amp. I never had formal guitar lessons and while my dreams were big, the effort and practice I put in was far too little.
While I wrote a couple of songs back in high school, I never recorded them and only became serious about it once I got a hold of a copy of GarageBand and Pro Tools on a MacBook Pro through work in 2006.
The main purpose of this blog is to give my songs a life outside of my home and personal computer, and to share that process with others. I do not consider myself to be a good musician or singer. My goal is to eventually hear one of my songs performed or recorded by any one of the much more talented musicians or singers out there.